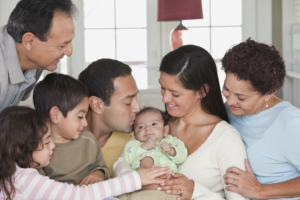 You've waited 9 months to meet your bundle of joy. Despite the books you've read, you weren't exactly prepared for the barrage of emotions you're feeling or for the little time you seem to have to take care of yourself. It's easy to be overwhelmed as a new mom, which is why it's important to make time to take care of yourself. Here are a few self-care tips to help you.
Get Plenty of Rest
This may have made you laugh out loud; we've all been there, but it's important to get as much rest as you can. Babies are demanding and those demands take a physical toll on your body. All the books say to sleep when you baby does but that isn't always realistic. Even if you don't sleep when your baby does, try to rest and relax as much as possible. At the very least, give yourself permission to rest. Sit down with a good book, magazine, or your favorite TV show and let it be OK to recharge. Everyone needs rest and allowing yourself to get rest can decrease your risk for post-partum depression.
Get Moving
While walking back and forth for your newborn is good, try to get outside in the fresh air, weather permitting. The sunshine is great for your mental health and the exercise is great for your physical health (of course, only after you have been cleared for exercise by your obstetrician). Can't get outside? Pull up YouTube and do one of the many yoga videos available.
Ask for Help
It's important to ask for help but it's even more important to accept it. Raising a family is hard work and it really does take a village. Asking for help could be as simple as asking your spouse to watch the baby while you take a hot bath or a walk around the block. If you're struggling with post-partum depression or anxiety, it's important to seek the help of a licensed therapist. There's no shame in asking for help.
Taking care of yourself is crucial to taking care of the newest addition to your family. You won't feel as overwhelmed and you'll be more open to enjoying the moment. After all, these moments are only here for a short period of time. If you need assistance with depression or anxiety, feel free to reach out to us to discuss how therapy can help.
Take care,
Dr. Nicole