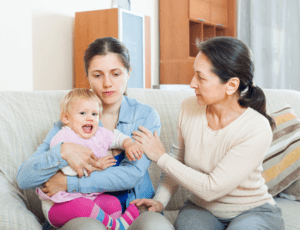 Bringing a baby into the world brings about a flood of fears and emotions. It doesn't matter how many children you have, these fears and emotions will always be there. It's normal to feel sad and have a bout of the baby blues, but what is postpartum panic?
Postpartum anxiety/panic disorder affects between 4% and 10% of women. It most often happens within the first few days after birth but it can gradually come on during the first year.
What Causes Postpartum Panic?
The cause of postpartum panic attacks is relatively unknown. What is known is that new parents are highly sensitive to what goes on around them. For some new parents, this sensitivity can trigger adrenaline rushes that can cause bursts of panic. Generally, women who experience postpartum panic have a family or personal history of anxiety or panic disorder.
What Does Postpartum Panic Look Like?
For the most part, postpartum panic looks like any other panic disorder but there are a few exceptions. For new moms, a great deal of anxiety is experienced about being a good mom or worrying about something happening to her baby. Sleep deprivation also exacerbates panic attacks.
How Can I Calm Down?
Most panic attacks can be medically treated, but, if you're nursing, medication is not always the best option. Psychotherapy is a great way to learn calming techniques to use at the onset of a panic attack. There are also a number of postpartum support groups, either online or in person, that provide support.
Becoming a new parent can be one of the best times in your life, but it can also be the scariest. You're not alone in how you feel and seeking treatment and support is always a step in the right direction.
Take care,
Dr. Nicole